Heidelberger Sinfoniker
It is inspiring music-making of the highest order.
The imaginative phrasing, the freedom of line, articulation, which drive the essence of dramaturgy and rhetoric through every symphony. The orchestra plays with such lyricism, character and humanity

Barbara Hannigan, März 2022
The orchestra performs with loose-limbed, high-spirited virtuosity, tearing into the music with contagious enthusiasm. The approach is highly adventurous but they never rush their fences.

Fono Forum
News
Booklet 2023/24
Our booklet for the season 2023/24 is out and can be downloaded here:
A Movie with the Heidelberg Symphony orchestra
The Heidelberg Symphony Orchestra in the Presto film! (from A. Vivaldi: "The Four Seasons", Soloist: Matthias Metzger)
Vascular surgery meets classical music - excellent surgical team harmonizes with brilliant musicians:
Vascular surgery and endovascular surgery at Heidelberg University Hospital UKHD presents the medical specialty in its multimodality, fascination and innovation.
And we are there!
Explore Haydn on the 7th and 8th of October
About the concert "1784 - a Haydn time travel", excerpts from the review of the Rhein-Neckar-Zeitung of October 11, 2023, Leonie Krause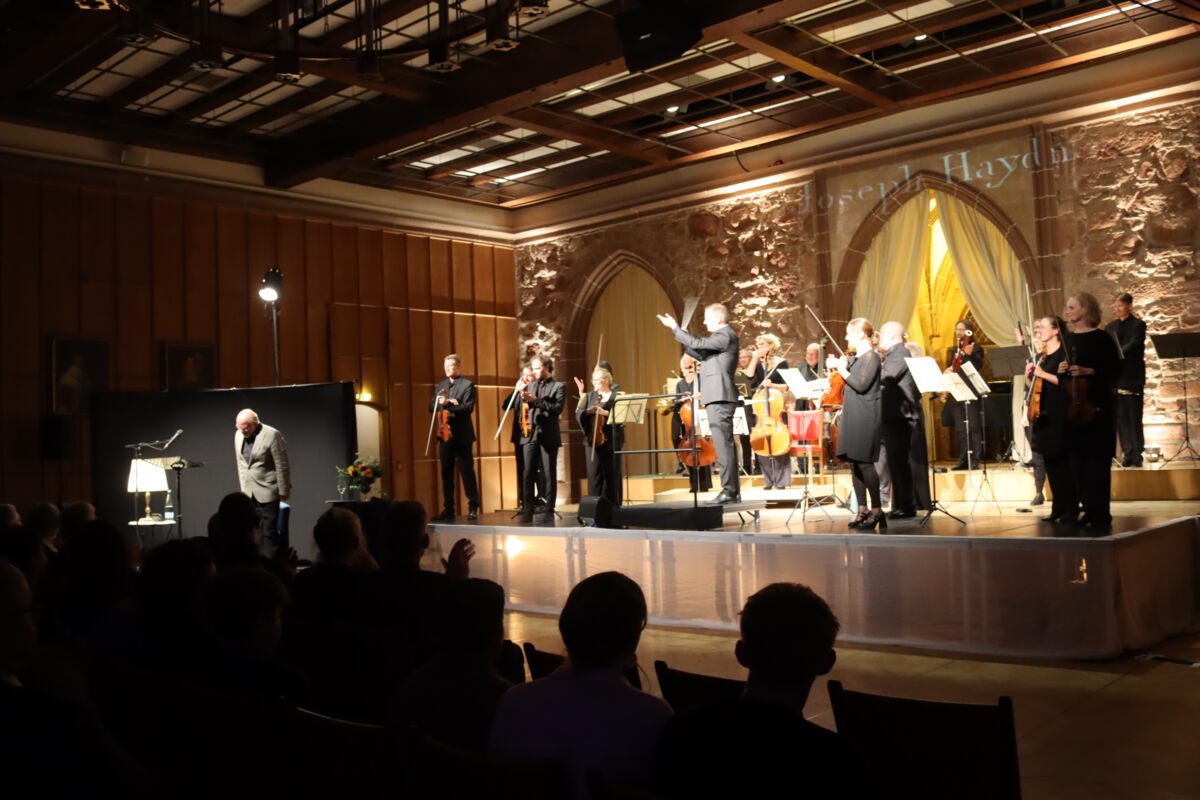 "The orchestra can be seen having fun with every note, they put themselves passionately into the works...As a result, the transitions between the music and the musicians almost melt away for the audience, eyes and ears grasp a coherent overall picture. This emotional performance makes it easy for the audience to lose themselves in the music.
It seemingly catapults its listeners out of the room, carrying them away with Haydn's melodies...The interplay of the entire concert skillfully sends the audience on the journey it promised. It entertains with an infectious lightness. In the end, we can actually smell the year 1784 a little."
And a few impressions from the review for the family concerts "Ein Haydn-Spaß", 12. Oktober 2023, J. Blank
"What a Haydn fun...Parts of the symphony No. 80 and 81 were played - in an outstanding way - but with a special twist. Johannes Klumpp not only conducted virtuously, but also took the children on a little journey back in time to the year 1784.... The children in the music school heard a colorful musical story about idyllic mountain lakes, beautiful fairies and gruff gnomes. In a humorous way, Klumpp also gave an insight into music theory: using "Alle meine Entchen" as an example, he explained how a third works. Again and again, little classical music fans could be seen jumping up with excitement...Niklas (6) also thought the performance was great: "I liked it best when we could join in and guess what the instrument was called or dance together." As a highlight, the children were allowed on stage to talk to the musicians themselves and take another close look at the instruments.... "We would come back any time. It's great when children are introduced to classical music in such a relaxed way."
Beginning of the new season!
On the 7th and 8th of October 2023 the third edition of our festival "Explore Haydn" will take place:
7 October 2023, 15 Uhr und 8 October 2023, 11:30h
Location: Brahmssaal, Musik- und Singschule Heidelberg
Family concert "Ein Haydn-Spass"
Heidelberger Sinfoniker
Johannes Klumpp - Moderation and Director

7 October 2023, ab 19 Uhr, TANKTURM Heidelberg
TANKTURM-Fest "TRANSFORMATION"
8 October 2023, 20 Uhr, Königssaal Schloss Heidelberg
"1784 – Eine Haydn-Zeitreise"
Stefan Müller-Ruppert - Reading
John Birke - Texts
Heidelberger Sinfoniker
Johannes Klumpp - Director

Tickets for the events (except for TANKTURM-Fest) you can get at the Ticket office or directly on Reservix
For more information on the concerts checkout the list on the right side of the page.
Haydn complete!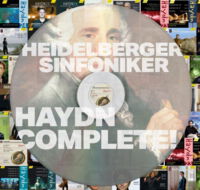 The last few missing symphonies of Haydn were recorded this spring - now our complete recording of all of Haydns symphonies is finished!

The release of all volumes 1-35 on hänssler CLASSIC will be in 2024.
Every CD until Vol. 27 will be also available as single albums, the already recorded but not yet published volumes 28-35 will be released this and next year in boxes of four CDs (Vol. 28-31, Vol. 32-35).

Our latest CD: Haydn Volume 27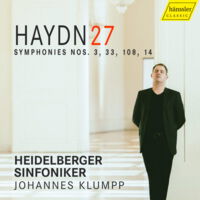 In january our CD was featured on
rbbKultur Album der Woche
-
listen here
Haydn 27
Symphonies Nos. 3, 33, 108, 14
Heidelberger Sinfoniker
Johannes Klumpp
CD Shipping free of charge in Germany
We ship our CDs without shipping costs within Germany. Buy now in our CD-Shop!
Counting since:
20.06.2020