Heidelberger Sinfoniker
It is inspiring music-making of the highest order.
The imaginative phrasing, the freedom of line, articulation, which drive the essence of dramaturgy and rhetoric through every symphony. The orchestra plays with such lyricism, character and humanity

Barbara Hannigan, März 2022
The orchestra performs with loose-limbed, high-spirited virtuosity, tearing into the music with contagious enthusiasm. The approach is highly adventurous but they never rush their fences.

Fono Forum
News
Booklet 2023/24
Our booklet for the season 2023/24 is out and can be downloaded here:
Beginning of the new season!
On the 7th and 8th of October 2023 the third edition of our festival "Explore Haydn" will take place:
7 October 2023, 15 Uhr und 8 October 2023, 11:30h
Location: Brahmssaal, Musik- und Singschule Heidelberg
Family concert "Ein Haydn-Spass"
Heidelberger Sinfoniker
Johannes Klumpp - Moderation and Director

7 October 2023, ab 19 Uhr, TANKTURM Heidelberg
TANKTURM-Fest "TRANSFORMATION"
8 October 2023, 20 Uhr, Königssaal Schloss Heidelberg
"1784 – Eine Haydn-Zeitreise"
Stefan Müller-Ruppert - Reading
John Birke - Texts
Heidelberger Sinfoniker
Johannes Klumpp - Director

Tickets for the events (except for TANKTURM-Fest) you can get at the Ticket office or directly on Reservix
For more information on the concerts checkout the list on the right side of the page.
Haydn complete!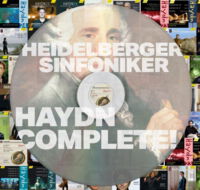 The last few missing symphonies of Haydn were recorded this spring - now our complete recording of all of Haydns symphonies is finished!

The release of all volumes 1-35 on hänssler CLASSIC will be in 2024.
Every CD until Vol. 27 will be also available as single albums, the already recorded but not yet published volumes 28-35 will be released this and next year in boxes of four CDs (Vol. 28-31, Vol. 32-35).

Our latest CD: Haydn Volume 27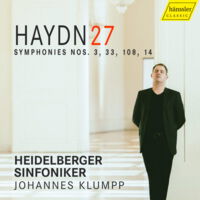 In january our CD was featured on
rbbKultur Album der Woche
-
listen here
Haydn 27
Symphonies Nos. 3, 33, 108, 14
Heidelberger Sinfoniker
Johannes Klumpp
CD Shipping free of charge in Germany
We ship our CDs without shipping costs within Germany. Buy now in our CD-Shop!
Counting since:
20.06.2020