The musicians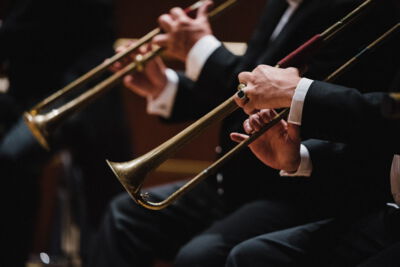 As freelance musicians the members of the Heidelberg Symphony Orchestra have a whole range of different backgrounds. Many of them play in other major ensembles, notably those dedicated to early music, others are soloists in their own right or belong to chamber music formations. Some pass on their skills to younger generations as teachers. Many of the musicians have been successful in international competitions.
Most of them have already gleaned experience with "authentic" performance styles in other ensembles, while some are conversant not only with the modern versions of their instruments but also with their historical predecessors. The brass and timpani players of the orchestra are in fact specialists in this field as in the Heidelberg Symphony Orchestra the brass and timpani parts are invariably entrusted to original instruments.
Alongside their duties as musicians, some of the long-standing members also fulfill other functions in the orchestra as the Heidelberg Symphony does almost all its management and administration work itself.
Violins
Benjamin Spillner (concert master)
Ariane Volm (orchestra recruiting office)
Monika Beck (c

oncert

a

cquisition)

Friedemann Kienzle
Silke Maurer
Liuba Petrova
Jochen Steyer (Sponsorship)
Ulrich Zimmer (Logistics/Stagemanagement)
Petra Wolff
Britta Zeus (Tickets, Service)
Viola
Annette Hartmann (solo)
Thomas Gerlinger
Yuichi Yazaki
Violoncello
Pirkko Langer (solo)
Bianca Breitfeld
Jutta Neuhaus
Double Bass
Michael Neuhaus (solo; Management)
Michael Tkacz
Flute
Karin Geyer (solo)
Vaness Hepers
Oboe
Andrius Puskunigis (solo)
Antoine Cottinet
Clarinet
Martin Vogel (solo)
Matthias Ritter
Bassoon
French horn
Thorsten Hagedorn (solo)
Christoph Thelen
Trumpet
Timpani